<!!---------------------------------------------------------------------navagation--------------------------------------> <!!-----please do not mess with the heights and widths of the pictures---->










<!!!--------------------------------------------------------left side small links--------------------------------------------------------->
<!!!---------------------------------------------small top border------------------------------------------------------------------->
<!!------------------------------------------------sub header----------------------------------> <!!-------------------------------------------------- area for content -------------------------------> <!!------------------------------------------------------------------area for content--------------------------------------------- ---->
Complete Die Casting Molds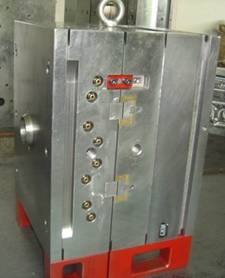 Die Casting molds comes in a lot of forms and dimensions. Tooling for die casting is completed from steel and usually weighs several hundred pounds for a complete die (complete mold). For example here is an old style complete mold weighing about 2,000 pounds. A complete mold is a mold that is two halves and when a die casting machine pushes the two of the molds together and injects molten aluminum into the mold and fills the mold. Molds can manufacture parts to all shapes sizes and weights. Molds cost hundreds to thousands of dollars because of the long lasting life of the steel molds that can be placed in over four hundred degrees of heat.
A complete Mold can form one of a million different designs developed and manufactured. Castings Aluminum company creates these parts for Aerospace, Military, Automotive, Medical, and hundreds of other customers. Complete mold, as seen above, is a two part mold that surrounds the casting on injection. What are the advantages of a complete mold?
Complete die cast tooling is the simplest method to get more than 100,000 parts from the life of the mold or die cast die tool. Complete die cast tooling will fit right into a die casting machine without the need for a different mold base, die or insert container, or master container. It takes more time than unit die tooling to set this type of die into a die casting machine, but this type of die will generally produce healthier quality parts and get more die lifetime.
Complete die cast die or die cast molds will also more likely have waterlines to speed up the cycle time of production, saving the customer's money.
Complete dies will frequently include a trim die that will speed up the production process and save as much as 15% on the part price.
Complete die cast dies are also easier to maintain and store than other forms of die cast tooling.
Finally, a complete die cast tooling package is directly transferable to another die casting company, frequently without any costly tooling modifications.
When you send us your complete die cast tooling; we will maintain that tooling to a high standard. You will receive as many parts as possible from that tool.